Get that remodel you ALWAYS wanted designed!!
Right now many of us are held up at home looking at our tired kitchens and wishing for a remodel. Even though having a designer physically come into your home is impossible right now, what if it could be done virtually? NW Home Designers has come up with a design plan where we can meet and talk via a video conference, then decide on what level of design you would like to go with.
The first portion is Level 1 at $600.00. To start things off we have a free 20 minute video conference for a meet and greet to see if we are a good fit and to decide on which Design Level you would like to choose. Once that is determined, you will be given a Step-by-Step tutorial on how to measure the space in question. These measurements allows us to create an As Built Plan/Existing Plan of the space you plan on remodeling. This along with pictures or online idea books (Houzz, Pinterest, etc.) shared by you, gets the ball rolling and a design plan is created based on your likes, priorities, and budget. To ensure that the design plan is properly explained, a 30 minute design review is included in this level where we can look at the space in a 3D format in an online shared screen meeting. During this meeting, we can makes changes, update materials and work together as a team to perfect the design. Once the design is complete, a scaled working plan (that also includes proper cabinet call outs) is created and emailed. This plan is a great base and will have enough detail so that you can obtain a cabinet bid or talk with the contractor about next steps. This entire portion will be completed in 2 weeks once the dimensions are received.
Next is Level 2, add another $600, takes the above and adds more detailed drawings to the mix. To complete this comprehensive Drawing Package an Electrical Plan along with Elevations are included. Any details such as cabinet trim or installation of an apron front sink would also be included. To tie it all together, a Fixture and Finish Schedule listing all of the items used in the space is pulled together based on the pictures and likes shared by you along with items that NWHD recommends. This portion would be another week or two after Level 1 is completed.
Together, Level 1 and 2 creates a detailed drawing package that any contractor or DIY'er can work from. Any additional changes are $300 each, depending on the complexity of the change/addition. Email communication or conversations of 15 minutes or less, are part of the package. We want to ensure that you feel comfortable reaching out with any changes or adjustments.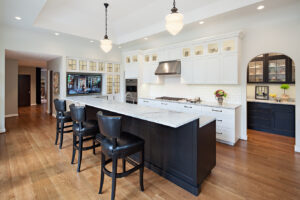 We want you to have the Dream Kitchen or Master Bathroom! We also want to be sure that this design experience is fun and interactive leaving you with a detailed set of drawings ready to get that project started. Contact us today. We look forward to working with you!